How to Renew Your Texas Real Estate License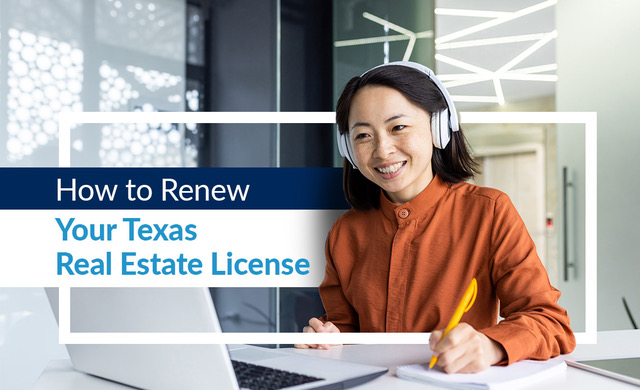 Have you been wondering, when do I need to renew my Texas real estate license, and how? Time flies when you're having fun helping clients, but it's okay because License Classroom has your back! Whether you're a new agent or more experienced, there are 2 simple steps to follow for license renewals.
#1: Complete Your Education Requirement
Texas requires agents to complete educational courses to renew their real estate license every two years. You'll need to complete Sales Agent Apprentice Education (SAE) courses for your first renewal and Continuing Education (CE) courses for renewals every two years after that.
Renewal Type
Required Education
First-Time Renewal (SAE)

If this is your first time renewing your real estate license, you are required to complete 98 hours of Sales Agent Apprentice Education (SAE), including

Legal Update I & II. 

In addition, if your broker made you a supervisor, you will also need to complete a 6-hour Broker Responsibility Course.

Subsequent Renewal (CE)

If you have already renewed your real estate license at least once before, you are required to complete 18 hours of approved Continuing Education (CE) courses, including Legal Update I & II, 3 hours of contract-related courses, & 7 hours of elective credits

(6-hour Broker Responsibility Course must be included in these hours if your broker made you a supervisor).
TREC allows license renewals up to six months past the expiration date. However, your license will be inactive and you won't be able to practice real estate while it's expired. CE courses can be taken at any time between your last renewal date and your license expiration date. You can also defer CE courses (for a fee) to renew an inactive license, but SAE is required to renew an active or inactive license for the first time. These courses are meant to keep agents informed and competent to deliver quality real estate service to clients. They're an investment in yourself and your business!
#2: Complete a Renewal Application with TREC
The final step is to complete your renewal application with TREC, either through their online portal or by mail. TREC will send a notice when the renewal period opens, 90 days before your license expires. If renewing online for the first time, you'll need to register an account. The renewal fee is due with your application, and there is a small additional fee for online submissions. It's important to note that if you have not already submitted fingerprints to TREC during your licensing process or during a previous renewal, you will need to be fingerprinted for a background check before your application will be approved.
Start Your Renewal with License Classroom Today
With License Classroom's self-paced and easy-to-use real estate courses, most agents are able to finish in just a few weeks! Choose from convenient packages with all the courses you need, or select individual courses if you already have some credits or need more elective hours. We're here to help ensure you have a seamless transition and keep serving your clients while also maintaining your license. Our friendly and knowledgeable customer support team is available to answer your questions via email, phone, or live chat. So, start your SAE or CE courses with License Classroom today!