How to Get Your Texas Real Estate License in 5 Steps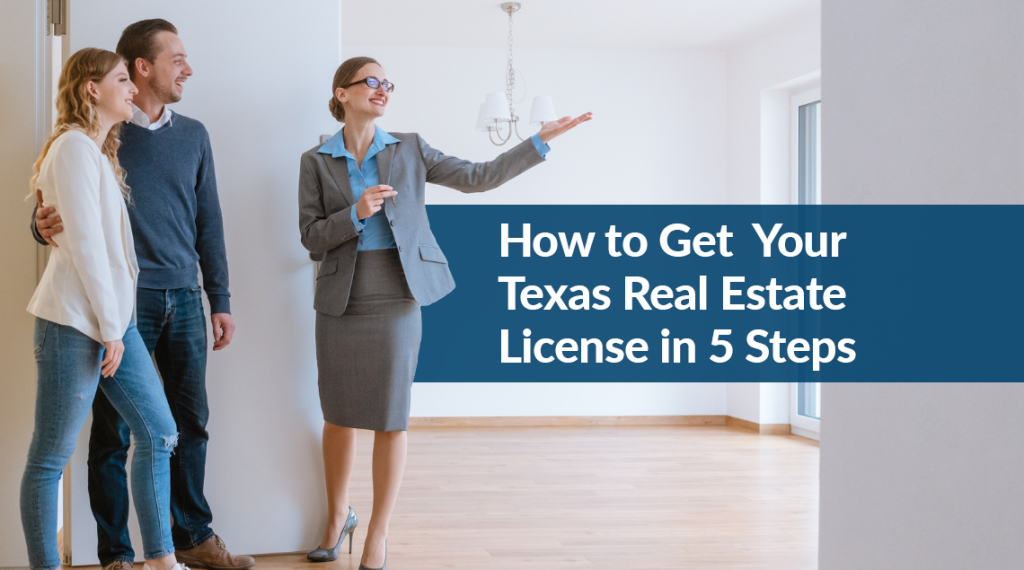 Are you ready to get your Texas real estate license and start helping people achieve their dream of being a homeowner? You could be the one to open the door to someone's new house and welcome them home. If you've ever thought about becoming a real estate agent, then keep reading to learn how to follow these steps to get your license.
First, to be eligible, you must be a U.S. citizen or lawfully admitted noncitizen, at least 18 years old, and meet TREC's standards for honesty, trustworthiness, and integrity. The Texas Real Estate Commission (TREC) is a state agency that regulates the real estate industry in Texas, including the licensing and education of agents. You'll learn more about TREC in your pre-licensing courses! Now, let's take a closer look at how you can get your Texas real estate license.
1. Complete Pre-Licensing Courses
TREC requires 180 credit hours of real estate courses from an accredited education provider. You'll learn about the principles of real estate, real estate law, promulgated contract forms, and real estate finance. A proctored exam is mandatory at the end of each course. Complete your credit hours from the comfort of your own home with License Classroom's 180-Hour Texas Agent Pre-License Package, which includes the proctored exams at no additional charge. Most people who focus on the coursework can finish within 6 weeks and be ready for the final exam!
2. Submit an Application
The fastest way to submit an application to TREC is online, but you can also submit it by mail. There is a $150 application fee plus additional fees for research purposes and online payments. You'll be applying for an inactive Sales Agent license until the final step of finding a sponsoring broker is completed and TREC approves your application.
3. Pass a Background Check
The Texas Department of Public Safety (DPS) needs your fingerprints on file to conduct a background check. It's a fast and easy process to sign up for an appointment on TREC's website. If you're concerned about the background check, consider taking a Fitness Determination test to confirm your eligibility before starting the process.
4. Pass the State (and National) Licensing Exam
The final licensing exam is split into two portions, with 85 questions covering nationally-required content and 40 questions on state-required content (Pearson Vue Texas Real Estate Candidate Handbook, as of 9/05/2023). You'll have four hours total and are allowed a basic calculator for the math questions. Texas allows three attempts to pass by 70% or higher before more education is required. Try License Classroom's Exam Prep Edge to improve your chances and gain confidence!
5. Find a Sponsoring Broker
The last step is to find a sponsoring broker to guide you through the industry and help grow your real estate business. Brokerages often compete for new agents, so expect a lot of emails and calls asking for coffee meetups! This is your moment to shine – ask lots of questions and get to know your options. Once you've found the best fit for you, TREC will change your license from inactive to active.