What Realtors Should Know About VA Loans
As a Realtor, it's undoubtedly an honor and a privilege to help the military men and women who have served our country. Besides doing what it takes to help our brave veterans find the perfect home to suit their needs, you'll want to take the time to educate yourself on the VA loan program. A VA loan is vastly different from the popular conventional loan and other mortgage products. A VA loan is a mortgage made available for qualified veterans, active service members and eligible spouses through the U.S. Department of Veterans Affairs (VA). While the terms of the loan are set by the VA, the actual funds are issued by private lenders at a competitive interest rate and a down payment is usually not required. As you know, home financing can be tricky and the VA loan process has gotten a bad rap in the real estate world for being complicated when that's not necessarily the case. Here are a few key things to know about VA loans so that you can better assist your military clientele with pride and confidence: 
The Benefits
Eligible veterans are able to qualify for a VA loan at lower costs, no down payment and less requirements than a conventional loan. The VA guarantees a percentage of the mortgage so the private lender is protected if the borrower defaults. A down payment is usually not required and veterans are not required to pay for private mortgage insurance. 
The Costs
Even though there are great savings with a VA loan, borrowers are required to pay a funding fee for the loan. This fee is usually about 2.3% of the loan for first time buyers. The funding fee increases to 3.6% for veterans who have had a VA loan previously. These fees can be lowered if the borrower can make a down payment.
Eligibility
In order to qualify for a VA loan, a veteran must meet at least one of these requirements: served for 90 consecutive wartime days, served for 181 peacetime days, or served in the National Guard or Reserves for 6 years. A surviving spouse of a service member who died in the line of duty or due to a service related disability is also eligible.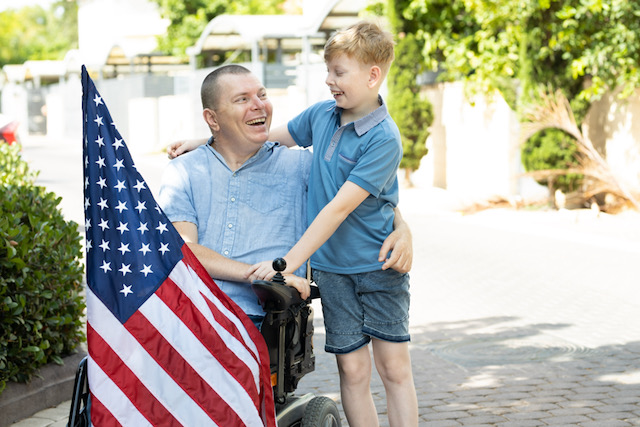 Home Requirements
A home purchased with a VA loan must meet some basic requirements. It must be a safe, sanitary and structurally stable residential home that is accessible from the street. It must have sufficient space for a living area, kitchen, bath and bed with its own utility services. A VA appraiser will determine that the house meets all of the VA loan property requirements. 
The Appraisal
The appraisal on a VA loan is different from conventional loan. A VA appraiser will focus primarily on preventing veterans from buying a home with major problems in construction, plumbing, electrical, etc…An appraiser will also be on the lookout for hazards and potential health issues such as bad water or lead paint.
Misconceptions
Eager sellers may worry that a VA loan takes too long to complete or that veterans may be less qualified buyers. However, a VA loan typically only takes about 30 days to close which is about the same amount of time for a conventional loan. VA loans have just as high of closing success as a conventional or FHA loan.