How Much Do Texas Real Estate Agents Make?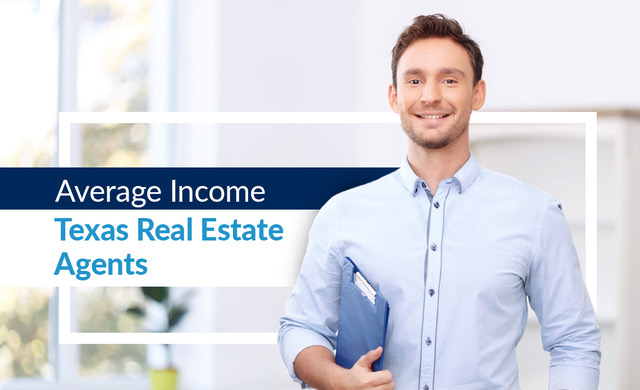 How much do real estate agents make in Texas? The answer depends on many factors, including the supply and demand of the real estate market. There's no question, however, that there will always be a need for agents to support buyers and sellers in real estate transactions. The U.S. Bureau of Labor Statistics (BLS) predicts a 3% growth in employment in the real estate industry over the next ten years, with an average of over 50,000 new jobs each year. That sounds promising! So, let's look at how real estate agents earn an income, how they're paid, and how much they make in Texas.
What Do Real Estate Agents Do?
Real estate agents wear many hats to assist their clients in buying, selling, or renting, and each day looks different. They often arrange property tours, host open houses, conduct market analyses, communicate with clients, and negotiate offers and contracts. They also handle marketing, accounting, admin, and other tasks necessary to run a business. Some agents work on a team, while others operate solo.
How Are Real Estate Agents Paid?
Agents typically earn their income through a commission, which is typically a percentage of the sale price in each transaction. The total commission for a transaction is often split between the buyer and seller agent and again between each agent and their brokerage. The percentage depends on the commission agreement between the agent and their brokerage, which may change as agents gain more experience and grow within the brokerage. Beyond client transactions, agents may earn additional income through referral fees, property management, and investment properties of their own.
How Much Do Texas Real Estate Agents Make?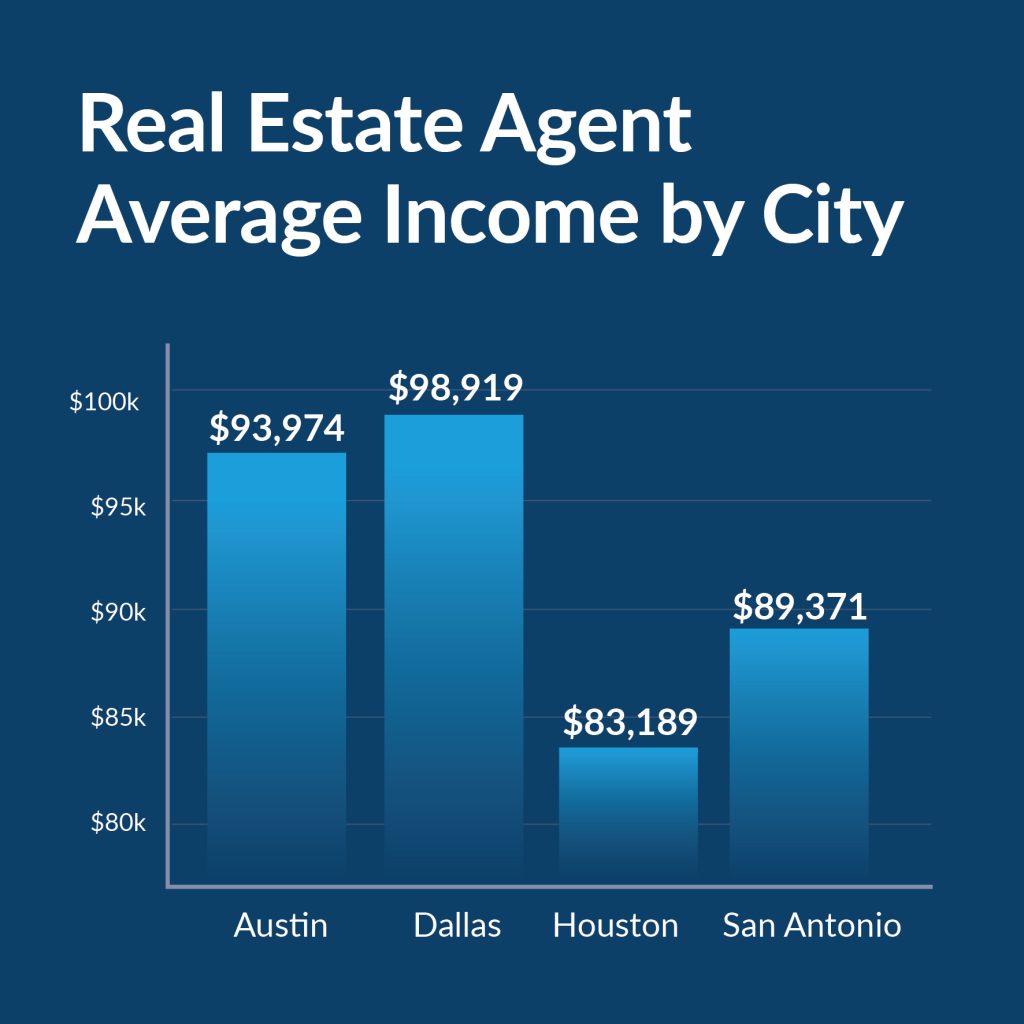 | | Average Income | Income Range |
| --- | --- | --- |
| Austin | $93,974 | $43,414 to $203,415 |
| Dallas | $98,919 | $50,492 to $193,792 |
| Houston | $83,189 | $42,203 to $163,980 |
| San Antonio | $89,371 | $44,437 to $179,741 |
*Average income according to data from Indeed as of November 9, 2023.
As of May 2022, data from the Bureau of Labor shows the national median annual wage for real estate agents is $65,850, with an overall range of $29,130 to $113,320. Texas real estate agents are consistently earning above the national average. According to Indeed, the average income of a real estate agent in Texas is just over $80,000. Agents with more than ten years of experience average nearly $100,000 per year. The amount you can earn varies greatly based on your commission structure, experience, skills, number of transactions closed, and more.
How to Increase Your Earnings Potential
As a real estate agent, you will likely be paid based on commission, which is determined by your performance and results. That means the earning potential is limitless! As your years and experience grow, so too does your income. Here are four strategies you can employ to help it grow faster and more sustainably:
Pursue Professional Education


Increase your income potential and likelihood of success as an agent by pursuing high-quality education both when you are getting your license and renewing it.

License Classroom's pre-licensing courses

provide a solid foundation, guiding you from essential knowledge to the in-depth workings of the real estate industry. Our courses are designed to be easy to use and relevant so you can complete them quickly and feel confidently prepared for a career in real estate. You'll receive comprehensive

license exam prep

and learn the valuable skills needed to grow a profitable business. Once it comes time to renew your real estate license after being licensed for two years, you can take our Sales Agent Apprentice Education (SAE) courses for your first renewal.  After your first renewal, you can take our Continuing Education (CE) courses for subsequent renewals.  Our courses are designed to help you grow your real estate business and meet state mandated education requirements.
Specialize In a Niche
Focusing on a lucrative niche, such as luxury real estate, can significantly boost your income per transaction by increasing your percentage share. For example, with a 4% commission fee, you would earn $80,000 on a $2 million home and $16,000 on a $400,000 home. It would take five transactions with average-priced homes to earn you as much as the luxury home. Specialize in luxury transactions to streamline your business and maximize your potential income.
Scale Your Real Estate Business
Scaling your business is inevitable if you want to keep growing, but it's also a great way to start earning more. Streamline processes and hire admin help to improve efficiency and free up your time to focus on expanding the business. Bring on additional agents to handle more transactions and broaden your client base, increasing your commission shares. As your team grows, diversify your income streams further by offering specialized services, such as property management.
Upgrade to a Broker's License
When you're ready to upgrade your income even further, become a broker with License Classroom's Texas Broker Pre-License course package! Brokers, with their extensive experience and higher authority in transactions, provide valuable mentorship and support to agents. They ensure compliance with industry regulations, resolve complex issues, and receive a percentage of the commissions earned by their sponsored agents. They may also earn commissions from their own transactions, as well as a portion of the brokerage service fees.